Intelligent design within a month: ABC Startsiden Black Week
Mateo Strmotić
8 min read
What happens when a partner approaches us with a request to design and develop a Black Week landing page and gives us a month to do it? We jump at the challenge, of course!
Who, what and why?
Before we get into the project itself, let us first set the scene. We're going to start by introducing one of our longest ongoing partnerships, ABC Startsiden.
ABC Startsiden is one of the largest online portals in Norways with a wide offer of content it serves. On their homepage, users can find links to news, TV guides, a search engine, and a shopping section. All of the links on the website are either to Startsieden's sister companies, such as ABC Nyheter and Finansavisen, or to other affiliate sites.
It is through these affiliate sites and ads that Startsiden generates its revenue. The shopping section itself is a sort of an aggregate of affiliate ecommerce sites and the products they offer. When a sale is made through Startsiden, it receives commission.
Of course, a website which has anything to do with any sort of commerce, be it directly or through affiliate links, will make sure to create emphasis for amazing deals to mark the shopping holiday that is Black Friday, and our partner is no exception.
Startsiden doesn't just do one weekend of deals to mark Black Friday, they dedicate an entire week to it under the name of Black Week. Over the years, this period would generate satisfactory revenue, but Startsiden felt that there could be a way to increase this. That is why they came to us in late August 2022 with the idea to design and develop a landing page dedicated solely to Black Week, along with an entry point widget for the Startsiden homepage, and a goal to achieve: double the Black Week revenue as opposed to last year.
Design smarter, not harder
The first step of the process was design, and any good design needs inspiration. Our team set out to find examples of other Black Friday landing pages and general ecommerce website designs and noted what they liked and what they didn't about each while continuously reviewing their findings. This started generating a mood board which helped define the layout and visual language for this project. Special attention was given to noting how other sites displayed their product and the logic applied to product grouping. As we needed to create a responsive site for both desktop and mobile platforms, examples on both platforms were looked at during this research phase. We then used what we learned to create the first wireframes.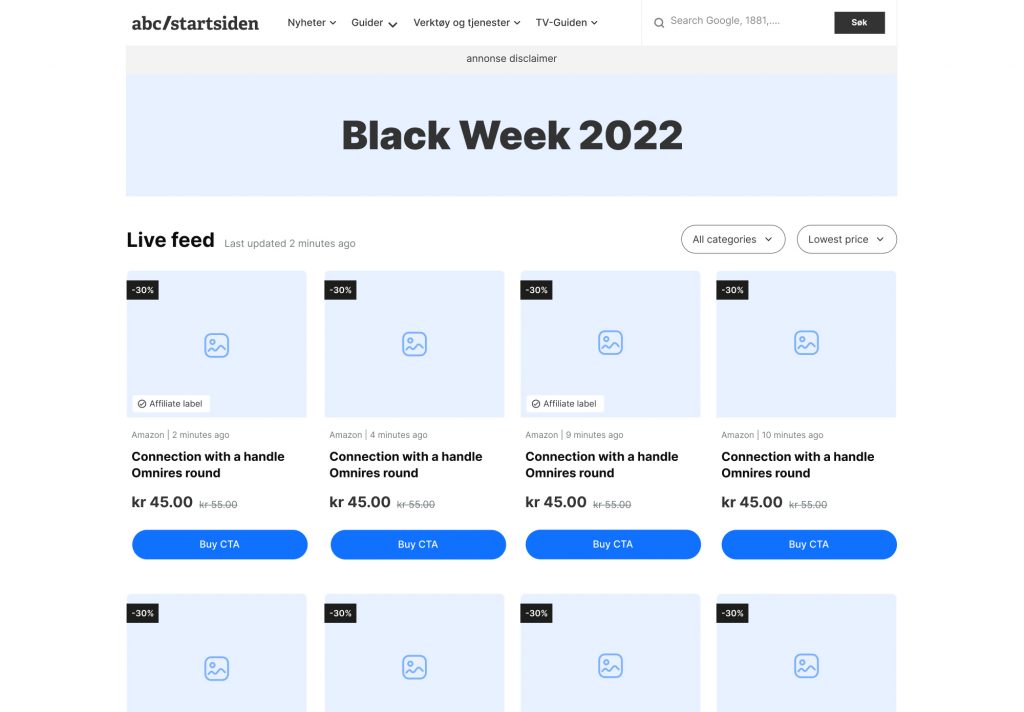 Tests, tweaks and insights
The core way the Black Week landing page functioned is by scanning ecommerce stores in Startsiden's affiliate network for products and then displaying them in a grid set up with an endless scroll feature. The entire page would automatically refresh every 10 minutes displaying new deals and products. Filters were added above the product grid with different product categories so users could browse what they were the most interested in.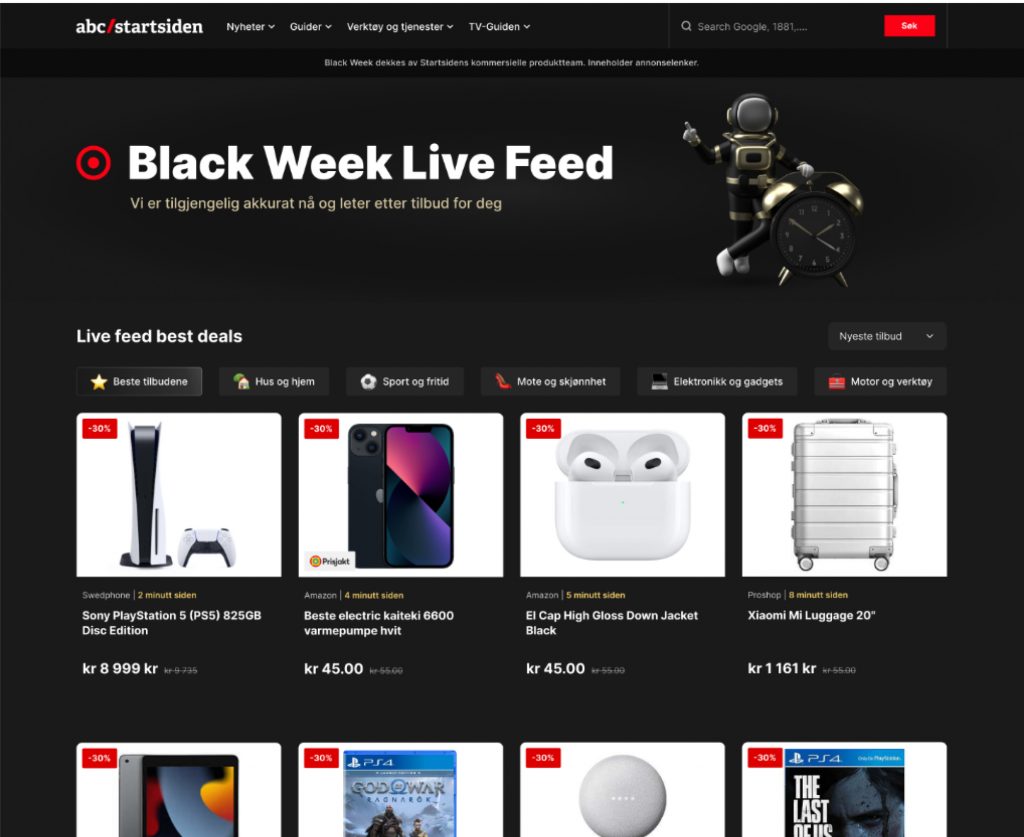 During the design and development stage, before the site was live, we concluded that with every refresh products with the biggest discounts and the best deals would get lost. And after all, what's the point of Black Week if not snagging that sweet, sweet discount. To counteract this, we suggested to our partner that we add a Best Deals section to the Black Week page. The basic premise behind it was to tag the absolute, well, best deals, and save them into a special section where the items would not get lost after a refresh. The idea was approved and we implemented it into the final product. The results were excellent, and the feature proved to be effective in facilitating conversions.

The entry point widget on Startsiden's home page utilised the Best Deals section by displaying two items at a time, periodically refreshing.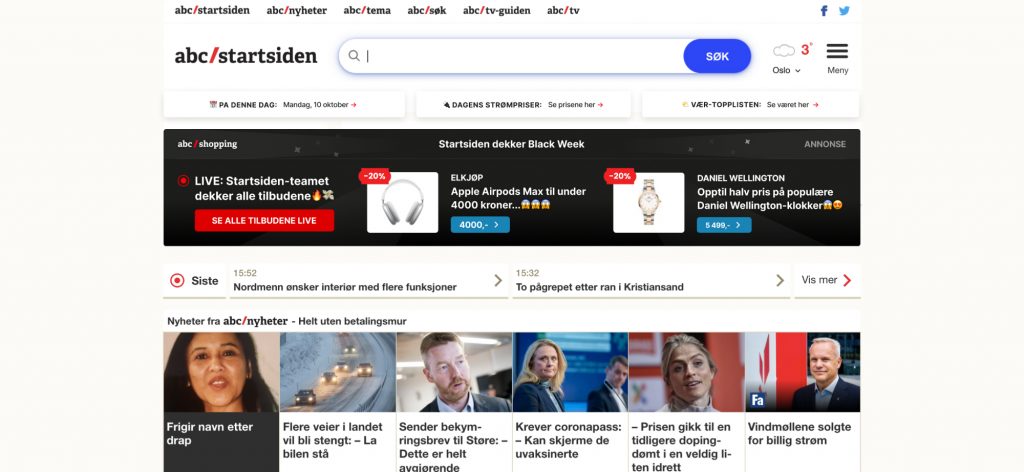 Despite all of the research before design and development begins, it's impossible to 100% know what users will respond to best. Once the Black Week page went live, we continuously performed various A/B tests and constantly applied smaller tweaks to make sure users were having the most optimal experience possible. Outside of it being a tool to reach our set goal in this specific instance, the data gathered proved to be valuable and it will find applications in our future projects.
SEOing our way through an FAQ
It cannot be understated how much of an important piece of the puzzle SEO is when it comes to anything online. SEO done well means that a page will appear highly in searches which correspond to the keywords placed in the content on the page.
Due to the nature of the content, ie. product links to affiliate sites without specific and targeted keywords, we needed to create content ourselves to boost SEO. We solved this by incorporating an FAQ section at the bottom of the page. We researched the best keywords using Semrush and injected them into the FAQ section.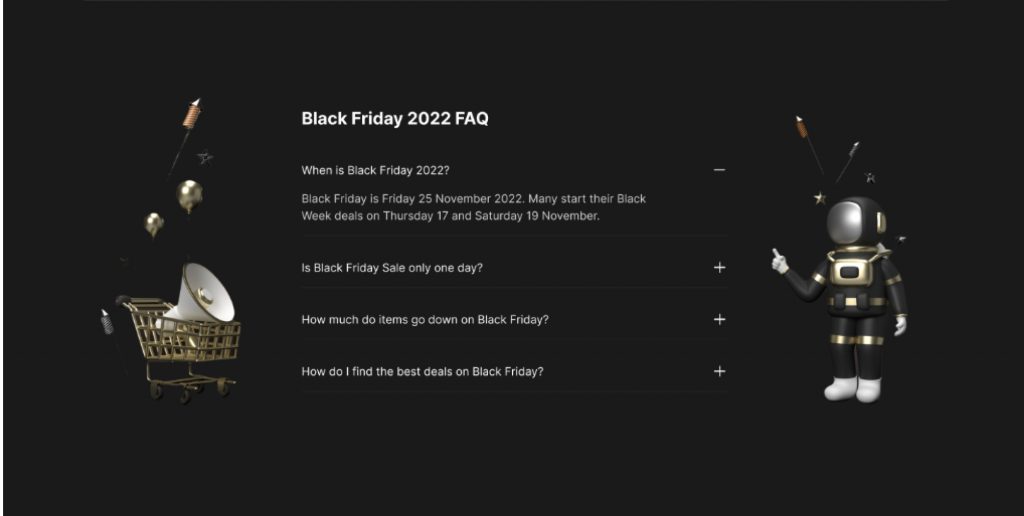 Results
The Startsiden Black Week was a success! The set goal of doubling last year's revenue was accomplished in the one week it was live, and Black Week even got extended for an extra day due to excellent results it was generating.
Remember the detail about how Startsiden makes a profit through affiliate sales and advertisers? The Black Week landing page contained zero ads, meaning that we have achieved our goal by relying entirely on the sales made through it. This is certainly an achievement as it proved that websites do not have to rely on a single source of income and that the possibilities are endless when users are presented with a well set up and intuitive concept.
When our clients win, we win. We're gladly adding this one to our ever-growing imaginary trophy case!
Mateo Strmotić
Marketing Manager
Nurtures all aspects of the Profico image. Facilitates communication. Has a camera ready at all times.
Explore more
articles
We shape our core capabilities around lean product teams capable of delivering immense value to organisations worldwide
Got a project?
Let's have a chat!
Zagreb Office
Radnička cesta 39
Split Office
Put Orišca 11, 2nd floor