Profico at Web Summit 2021: Top 5 Tech Trends
Miro Marasovic
19 min read
As a digital product agency, one of the key aspects of our work is to remain on top of upcoming trends in tech. We're on constant lookout for new market opportunities and inspirations which we can implement on client products we manage. That's why we were extremely looking forward to participate as exhibitors at this year's Web Summit. Without further ado, here are our top 5 trends that stood out the most in terms of their potential to indicate where the industry is at today and where it could be going tomorrow.
1. Metaverse
As soon as Facebook rebranded to Meta, it became clear that the "Metaverse" is going to become the latest trending buzzword. While everyone, including us, is still terrified by the idea that Facebook (Meta) is going to become even more involved in our digital lives, it was refreshing to see some early use cases that don't look that scary. Apart from Meta, we've listened to talks from startups such as Roblox and Sensorium Galaxy, that are looking to bring Metaverse into other industries like education.
But while these startups have existed for years, Meta (ex-Facebook) was an absolute highlight of the conference. Chris Cox (CPO at Meta) hosted a talk titled "Welcome to the Metaverse". An immersive VR evolution of the internet.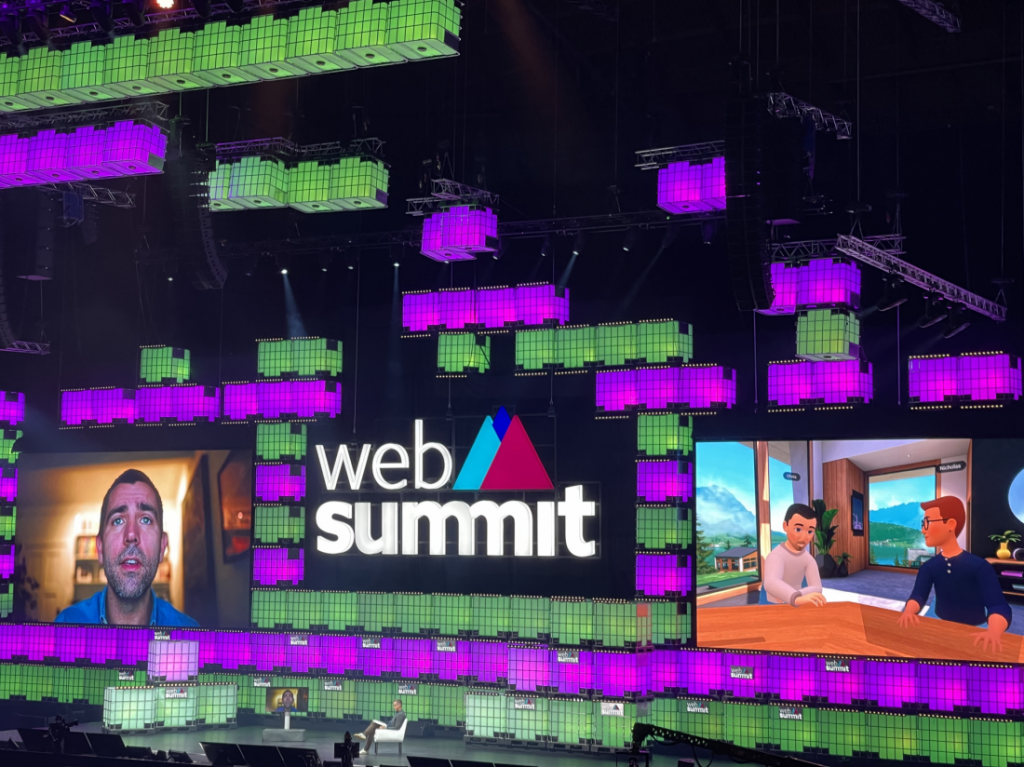 But instead of a "Ready Player One" inspiration, the audience was challenged with a question about "How do we build something that's more interesting than peering through a box?".
Exposing an obvious problem that has emerged during COVID-19 remote work aftermath: Human interaction simply wasn't designed to work while communicating through screens.
In other words, we end up missing out on the most important aspect of non-verbal communication like looking someone in the eyes, observing their gestures, body positioning, and language.
This hit us so close to home, as we realized just how different our Design Sprint or Sprint Planning workshops were when executed remotely. It just wasn't the same as when everyone used to be present physically in the same room. Kudos to Chris, at the point of writing this blog post I can easily see myself embracing the idea of hosting workshops in the Metaverse.
Obviously, I'm doing my best to ignore Mark Zuckerberg's obsession with growth and his company's (in)ability to apply breaks and place social interest on top of its own profits.
Even as Chris tries to play it down by stating:
The metaverse should not replace real life. Nothing should. And I would not want to design something that does. But for things that it can improve upon… Take productivity, take a family who can't be together – things that we see billions of times a day around the world – and make that a little bit better. That's a big deal and that's why we're doing it.

Chris Cox, Facebook
However, as it becomes the buzzword of 2021, the concept of a Metaverse is not that new, millions of gamers have been experiencing it every day. And whatever we decide to call it, it's clear that VR and AR are here to stay and become mainstream tech. We've gone from communicating using text (early Facebook), images (Instagram, Snapchat), video (TikTok) and are at the early stage of the immersive internet.
Whatever actually ends up happening, it was great to see how society is challenging any form of new tech at a much higher level compared to the early days of social media.
2. NFTs
We've never looked at NFTs as something that makes you rich overnight by selling crypto art for 69.000.000$ but rather focusing on the technology and its potential use cases in terms of the way they're going to impact the industry moving forward.
And Web Summit talks managed to show us just how much public opinion was polluted by the mainstream media interpretation of NFT.
Nicolas Julia, CEO of Sorare, a 600+ M USD funded startup that enables players to manage their own soccer, or football, teams with digital player cards minted as NFTs, held a talk at the opening night.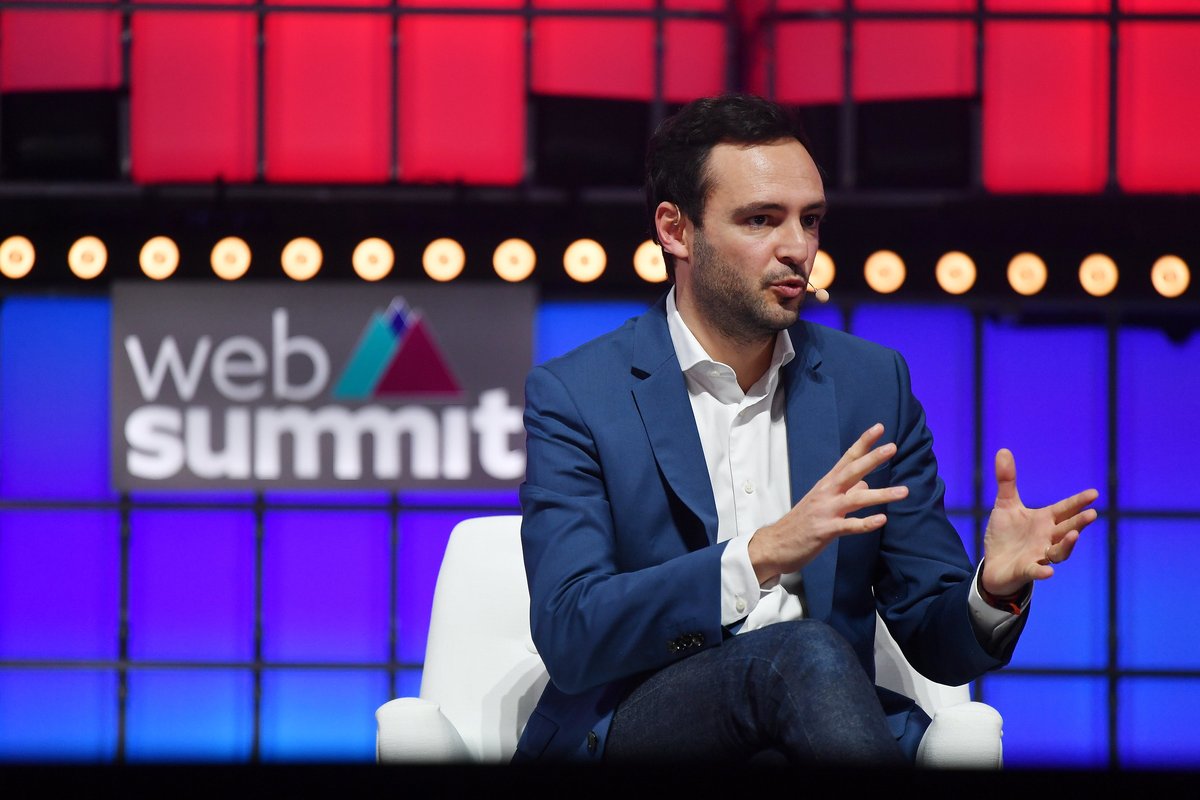 Long story short, the main takeaway from the talk was a bold statement about how:
NFTs will be the underlying technology for everything of value on the web.

Nicolas Julia, Sorare
It seems that the NFT future is looking bright beyond the crypto art. With endless opportunities for creating and purchasing non-fungible assets and experiences, such as:
Brands
A completely new way for brands to connect with the buyers and have a more direct relationship with the market, e.g. special gift cards, exclusive products…


Real Estate
If there's one asset that's strongly connected with the concept of ownership it doesn't get better than owning real estate. Connecting an NFT with a physical property allows for straightforward usage and easy collateral. Not to mention properties that you're going to be able to own in the Metaverse.


Gaming
Every single MMO game out there is enabling players to purchase in-game items. However, these items are often issued and sold by game publishers thus limiting the "liquid" potential of those assets. Using NFTs, players could either earn NFT items or purchase them but with an option to sell them on a decentralized marketplace.


Location NFTs
Ranging from NFTs for chef's table experiences or restaurant reservations for special events. NFTs for visitors of galleries, museums, historic landmarks)
Talking about Web 3.0, Nicolas also touched upon user identity:

"I was mentioning your identity earlier on, so that's something an NFT could carry for you on the web. It's going to be invisible.
We want people to feel the benefits of it, that you truly own your digital good, that you can move it, and so on without having the friction of crypto that most of the crypto products have today — it's complicated. I see that it's a technology that's going to underpin everything of value on the web."
One thing's for sure, as our lives become more and more digital, NFTs are going to become more and more important.
3. Crypto & Blockchain
In case you haven't heard, it's no longer cool to say "crypto", we should be using "Web 3.0" instead. The internet as we know it keeps evolving as we move from consumers (reading data online or web 1.0.) to users actually being the product (interacting with the websites that capture our data and serve content/ads based on your interaction, storing it on centralized repositories, or web 2.0.), all the way to the decentralized version of web 3.0. where all the power is placed back in the hands of the user.
The new internet will provide a more personal and customized browsing experience, a smarter and more human-like search assistant, and other decentralized benefits that are hoped will help to establish a more equitable web. This will be achieved by empowering each individual user to become a sovereign over their data, and creating a richer overall experience thanks to the myriad of innovations that is to come once it is in place.

Werner Vermaak, Coinmarketcap
Web 3.0. is going to be powered by AI, AR/VR, and blockchain. The latter one was the key theme of this year's web summit with more than 200 startups coming in from Crypto.
Some of the crypto startups that caught our attention:
GGDapp 
Decentralized gaming platform allowing users to get rewarded for their skills. Cryptocurrency is used for in-game payments and rewards, smart contracts for transparent execution of rewards' payouts & staking, alongside on-chain notarization to create a trusted ecosystem. Last but not least, by staking users receive a right to get a share from platform commissions.

Qudo
Similar to GGDapp, Qudo enables gamers to earn by playing while developers earn for their games' engagement. In other words, players can do In-App-Purchases using QUDO in games, while game developers can improve their games through the QUDO B2B marketplace or give back to the community by creating additional rewards.
Launchnodes
Launchnodes is aiming to simplify the whole process of staking by providing the users with Beacon or Validator nodes that run on Ethereum. Long story short, Launchnodes spins up pre-configured, secure nodes inside your own AWS account, so that you can own and run your own Beacon and Validator nodes and start staking without the hassle.
The Crazy Startup
Shark Tank goes Crypto! Essentially a live reality show for startups run by a decentralized community. Startups are able to reach out to the public, find mentors and raise the funds, while the viewers are able to engage and invest in them. All the projects accelerated by The Crazy Startup are tokenized using the Crazy token.
Zharta
Zharta is a solution that enables real-time loans using NFTs as collateral. Exploring the dynamic of crypto by blending an intuitive experience between DeFi with NFTs. Users looking to get loans can use Zharta to borrow in real-time by leveraging their NFT assets as collateral, while investors get access to the NFT market by performing investments.
Nearpay
Connecting fiat and crypto worlds by focusing on making KYC easier and faster. Thus eliminating the biggest bottleneck of each payment. It only takes a couple of lines of code to start accepting payments directly in your app. For more exclusive features, there's a white-label solution that they also offer.
DEIP
Trying to reduce the entry barrier that comes with the lack of technical proficiency. Essentially they provide an infrastructure for working with intangible assets. The part that stood out was the implementation of the citizen project called Action, a portal "aggregates citizen science projects to assess their quality and performance via a customized peer-review process".
When it comes to the talks, Tim Draper shared his perspective on the future of blockchain and its implications on future governments:
Citizens are going to be able to choose to which government and in which cryptocurrency they pay their taxes
Smart contracts for (health, education and other public services)
We are still far from that future, although it is clear that we are moving towards a more decentralized world, and crypto is here to stay.
4. Artificial Intelligence
Another driving force behind web 3.0. is Artificial Intelligence. There was a ton of SaaS solutions that utilize AI to solve specific user problems. It's an underlying trend in AI where a lot of startups are becoming hyper-specialized.
AI is very efficient in solving very specific problems much faster than humans ever could but AI does not yet have an understanding of the bigger context or meaning of the data. And it's becoming more  clear that AI is already everywhere helping us with tasks we don't want to do.

Daniel Dines, UI Path
Examples of this included:
Papercup
Automated dubbing that enables users to produce broadcast quality translation and voiceover for your videos at scale
Sourcery
The trend that's booming since GitHub launched Copilot, was present on Web Summit. Enter Sourcery that helps you write clean, well-structured code from simplifying conditionals to extracting out methods.
The Newsroom
A browser extension that provides you with an assessment of the trustworthiness and with context on the news you consume online, as you scroll through your feed – whether that's on social media, newsfeed, or any type of online environment.

Epoka
Epoka provides users the ability to see a realistic preview of their furniture. All you need to do is snap a photo of that old couch you want to replace and find something new you like from the catalog.
Botwise
Seamlessly integrate your knowledge platforms and access them through one intelligent bot window. AI automatically processes documents, wikis, webpages and other types of data. Upon talking to the bot, Botwise leverages natural language processing and searches for answers from one place immediately
Contents
From analyzing the content and providing translations all the way to generating text using AI that gets proofed and checked by human proofreaders, creating a perfect human-machine synergy. Used by Yahoo and Microsoft to generate content.
Cord
Teams can collaborate directly where they work by adding Slack-like chat inside the product or adding Google Docs-style comments or visual annotations anywhere on the product itself.
Claid
Claid makes images better in the sense of resolution, weight, and colors. Their image rendering API utilizes the latest AI technologies to eliminate image compression artifacts, upsample, retouch, resize and encode images to align every single image to user-specific quality requirements.  
Swiftly
World's first AI that applies for jobs on behalf of the user. AI applies to the job and generates unique CVs and cover letters for every job. The user has the option to withdraw from applications later on.
Zenhire
A "humanoid" AI Recruiter that does real-time interviews, sends personalized applicant feedback & decreases HR workload by 90%. Currently in Beta.
Imagine a future where AI is applying for a job (Swiftly) and its application is being reviewed by another AI (Zenhire). We've come a long way.
5. Sustainability
AI was one of the key topics of this year's web summit, but apart from the SaaS solutions we've briefly touched upon above, there were a ton of startups that focused on social issues such as sustainability.
Apart from talks that featured social issues like BLM, Climate Change and the Gender Gap, there were a lot of startups that were targeting other important social topics.
Smartex
This year's Pitch Competition winner is an AI-based machine learning solution that tries to help textile manufacturers reduce their waste. According to their CEO, the main problem today is caused by human inspections, where most of the textile manufacturers rely on individuals trained to check each item by eye for imperfections. That's why Smartex tackles the waste problem in the fashion industry, not by recycling or reusing, but by avoiding textile waste in the first place.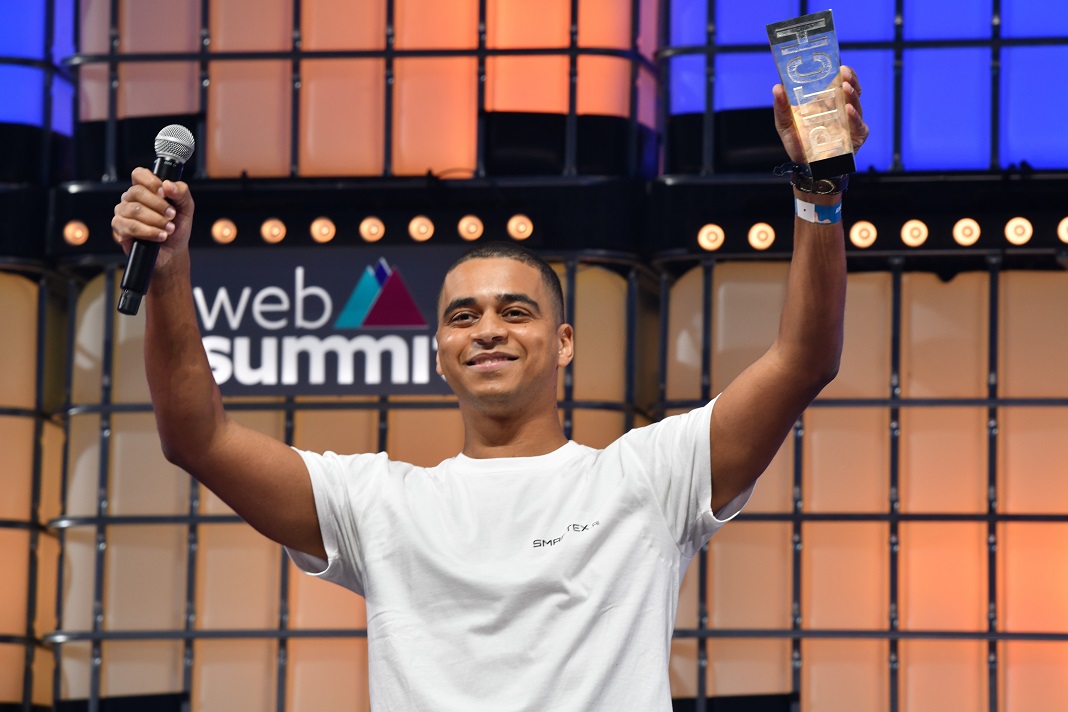 Mirai Foods
Mirai is developing real meat – that's cultivated directly from animal cells by taking a small sample of a cow's muscle tissue to create low-stakes steaks. As opposed to current standards, Mirai is focusing on getting the right balance of fat and muscle for an authentic taste and texture.

EcoTree
We've even managed to plant our own trees during the conference! EcoTree allows users to instantly buy trees around the world, observe their progress and potential revenue, all of that until the point at which the tree is ready to be cut down and the profit goes back to the user that had bought the tree.
Greenomy
A sustainability reporting startup that helps businesses reach a carbon-neutral zone according to the EU's Green Deal. It achieves this by helping organizations with the regulatory, technical, and project management aspects of sustainability goals and compliance.
Conclusion
Metaverse, NFTs, Crypto, AI, and Sustainability are extremely broad topics on their own, and it's impossible to get a full grasp on them in a format of a single blog post. But we sincerely hope that we've managed to point out their general importance and the potential impact they're going to have on the tech industry for the years to come.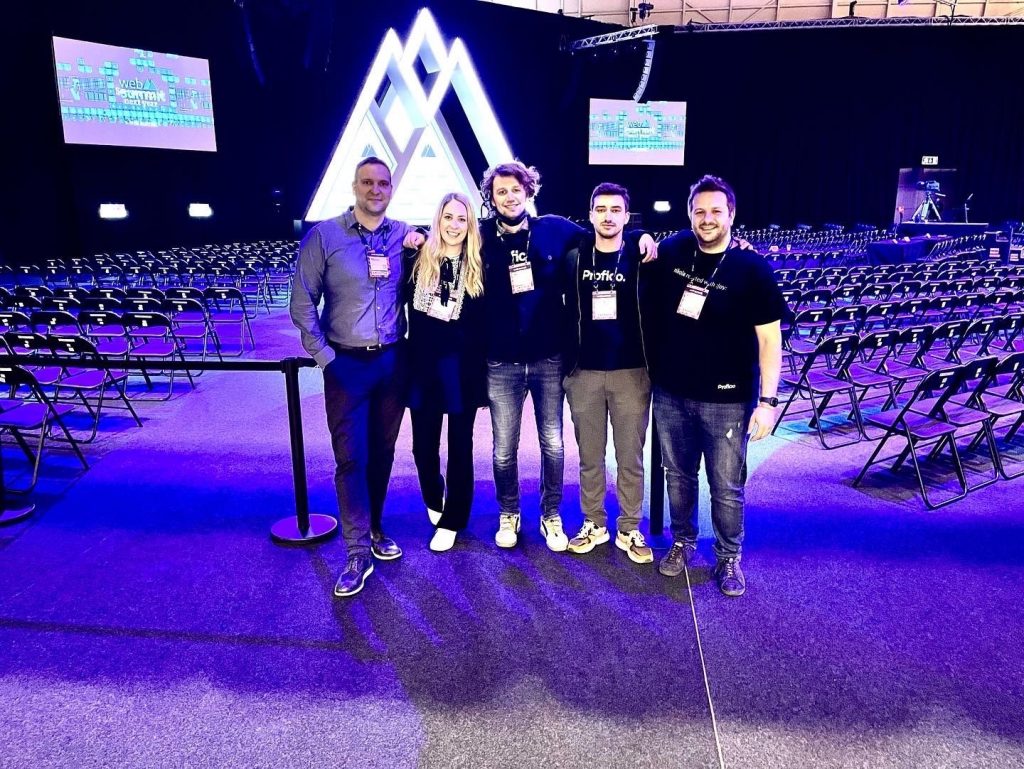 While it's great to see the future of tech being shaped in front of your eyes, the only downside of the whole Web Summit experience was the duration of talks. Most of the events lasted from 5 to 20 minutes, and it simply doesn't work. Many of the issues are complex or interesting enough to require a much deeper (at least an hour-long) presentation.

With that in mind, we kindly ask Web Summit organizers to reduce the number of talks and place more emphasis on the quality of the conversation instead of its quantity.
See you next year!
Miro Marasovic
Head of Product Strategy & Delivery
Explore more
articles
We shape our core capabilities around lean product teams capable of delivering immense value to organisations worldwide
Got a project?
Let's have a chat!
Zagreb Office
Radnička cesta 39
Split Office
Put Orišca 11, 2nd floor