Profico @DumpDays2017 conference
Miro Marasovic
6 min read
Ever since our early days, Profico has always felt a strong sense of responsibility towards taking care of the local IT ecosystem.
From co-founding the very first Shift conference, organizing various meetups like Mobile Mondays and Smart City panels, all the way to hosting "Open Door" days for aspiring students.
In our efforts to give something back to the tech scene we've evolved from, we have decided to support one of the most talented associations in Croatia – DUMP (Student Association of young programmers). By becoming the general sponsors of their Dump Days 2017 IT conference, we were looking into further ways of developing the domestic developer community while getting to know our potential co-workers a little bit better. On top of that, our very own "triple threat" team Ante, Mateo and Davor gave awesome speeches and presentation that generated a lot of interest among conference participants.
Our speakers

Ante Matijaca kicked off the conference with his controversial topic on "How is AI going to replace your job and why is that okay?".A lot of eyebrows were raised when he tried to explain why "AI or DIE" will become the biggest point of interest in 2017.
Developers have been labeled as the "hottest workforce" in the world. Who better to share thoughts on this topic than the man that has seen the best and the worst of the both worlds. Firstly as an employer and managing partner and later as the member of the CISEX (Croatian Independent Software Exporters) management board.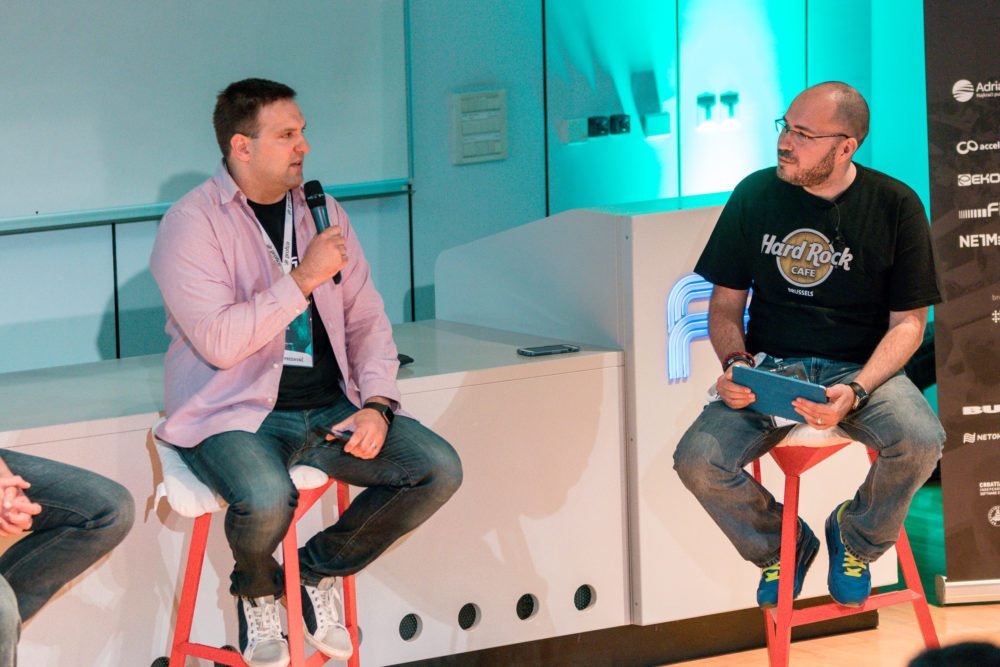 Last but not least, our Lead Android Developer Davor Meštrović had the most "technical" presentation. Inspired by Mark Zuckerberg smart home project, he decided to recreate something of his own. Hence, the presentation "Android Things" left everyone in the crowded auditorium speechless. And judging by the inquiries after his presentation, he will be staying in the IoT mode for quite some time.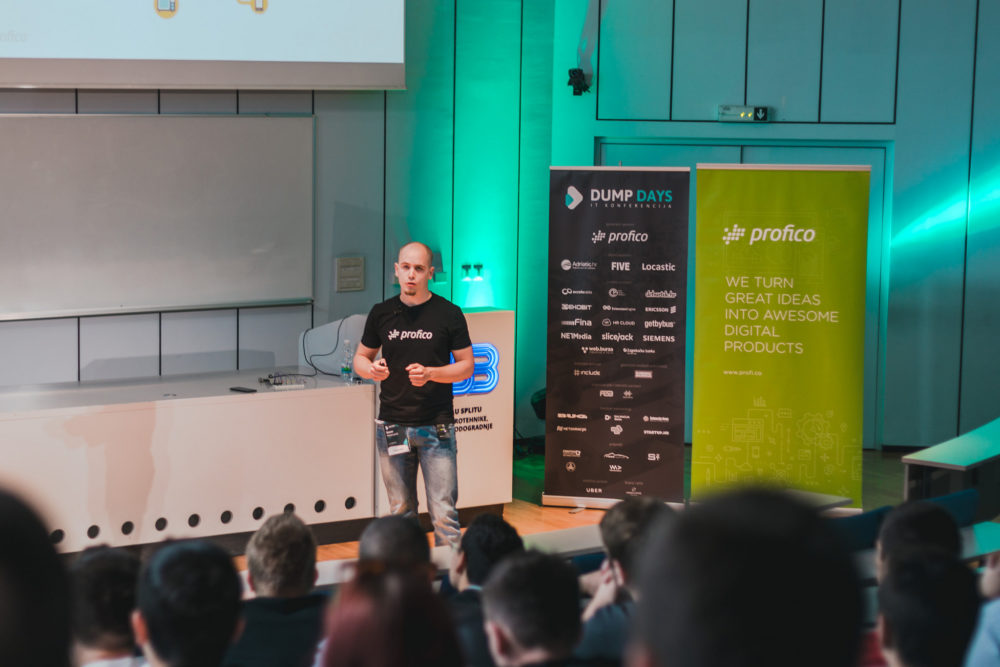 Bringing the cultural feel to the stand
Since we were general sponsors we had to prepare something special for the event itself. After going through the first couple of ideas, we have decided to go with the most impactful one: "Let's bring the spirit of our company culture to the conference stand.
The Careers Pub
Since Dump Days was a proper developer-oriented conference, a lot of visitors were looking into ways of getting more familiar with their future potential employers. We were completely aware of the fact that students/geeks were somewhat introverted in terms of not being comfortable with initiating first-step interaction. To help us tackle this problem, we decided to go with the Profico branded craft beer which contained several funny and witty messages.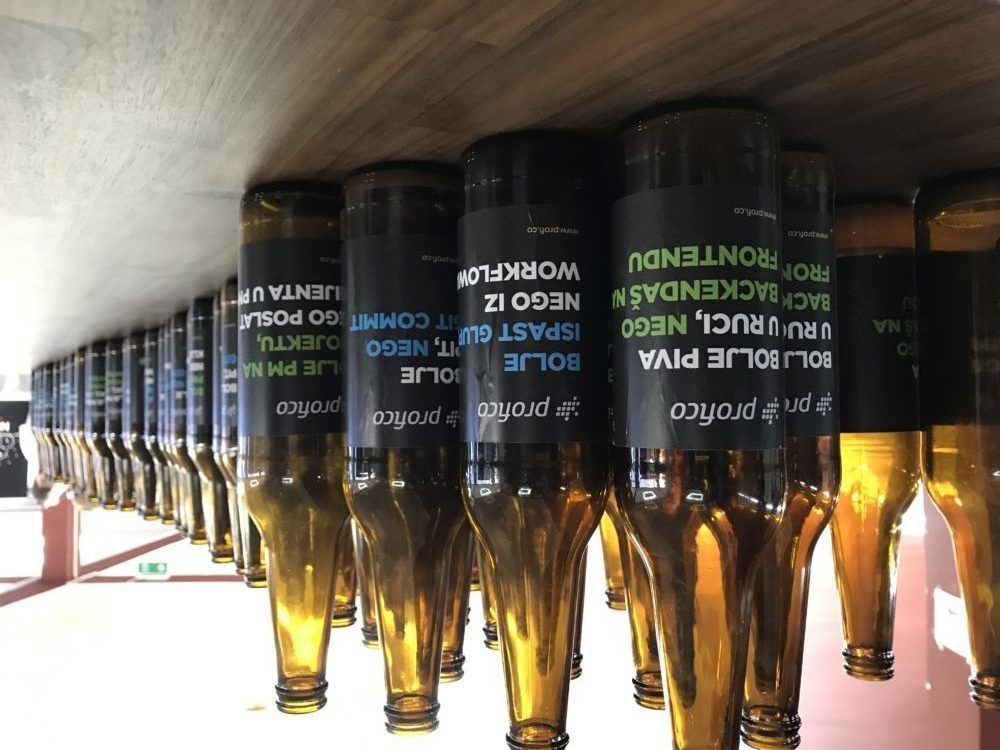 The Fun Zone
You have probably already heard about the infamous Profico PES League. A social media campaign was launched in order to motivate visitors to sign up for participation in the very first Profico Pes Cup. All of the competition slots were filled a couple of hours after the start of the campaign. Our conference stand was crowded "like Picadilly Circus" as competitors locked horns with our finest PES players, all in efforts to take home prestigious title and winning cool prizes at the same time.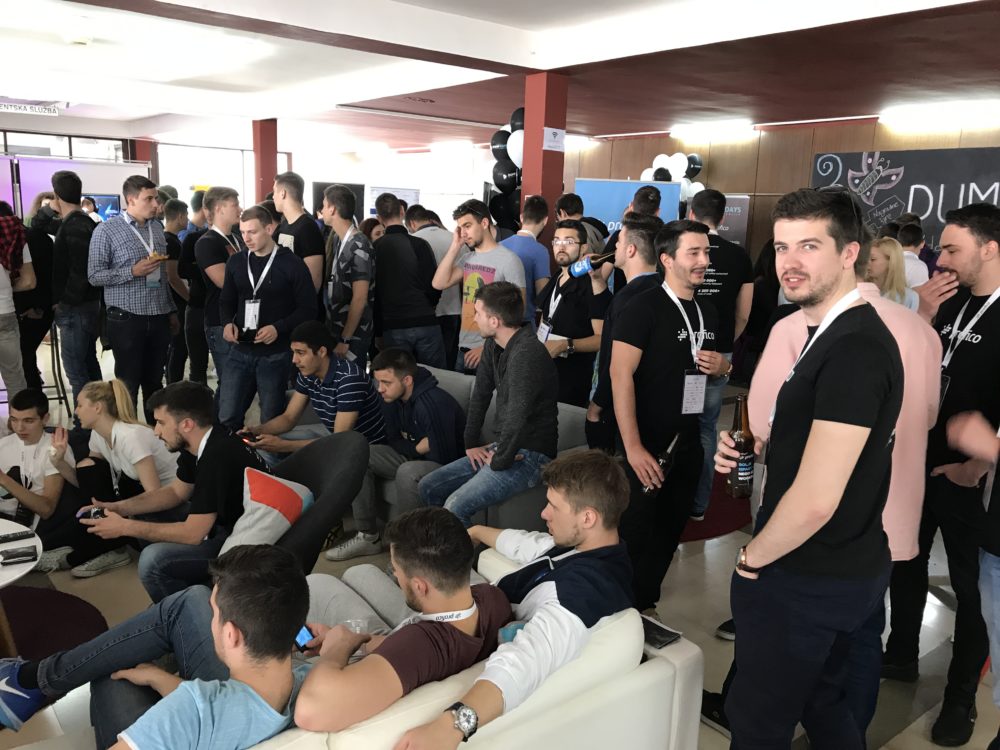 Match made in Profico
Instead of code and design skills, we were trying to find the perfect cultural fit for Profico. That "chosen one" that was able to integrate perfectly with our cultural values. There were no right nor wrong answers just different points on every answer. Some examples of the questions included Elon Musk vs. Steve Jobs, Mišo Kovač vs. Jelena Rozga and all of the other software development relevant questions. 🙂
Final Verdict
More than 1000 participants, 3 presentations, 353 filled out "Match made in Profico" questionnaires, record breaking 660 beer bottles distributed, our own iOS developer Ferenc participating in the final game…
Looking at the numbers, the conference was a complete success. But what delighted us the most was the passion and enthusiasm DUMP students poured into organizing this conference. We had a blast at this year's Dump Days 2017 and are looking forward into seeing you all next year.
Miro Marasovic
Head of Product Strategy & Delivery
Explore more
articles
We shape our core capabilities around lean product teams capable of delivering immense value to organisations worldwide
Got a project?
Let's have a chat!
Zagreb Office
Radnička cesta 39
Split Office
Put Orišca 11, 2nd floor