What do we do, who do we hire, who are our clients?
Mateo Perak
7 min read
We do mobile applications. We do web applications. We are developing great user interfaces with excellent user experience. That's what we are the best in. But let me explain our company from the scratch.
What we do?
Although we have website that we consider as pretty descriptive on what we do, we still get some question like – can you guys do a mobile application with entire web services and backend? Or, can you guys build web portal, online booking engine or web-based ticketing system? Can you guys give us a hand us with our PHP web project, can you build a mobile app for smart house solutions or mobile applications for specialized hardware solutions? Can you build the mobile game? Can you do real-time audio/video streaming mobile app? Can you build a responsive website? Etc, etc… Luckily for you, the answer is mostly – Yes, we can! And we have some good references to show you on every field. Just ask ;).
For our clients we can do almost everything in mobile applications or web web development. We can build thin clients or entire solutions, depending on your needs.
We are not just building mobile applications or web applications. We love building entire multi-platform mobile and web solutions. So, if they say that one picture is worth 1000 words, this would be the one picture to show when you ask what do we do?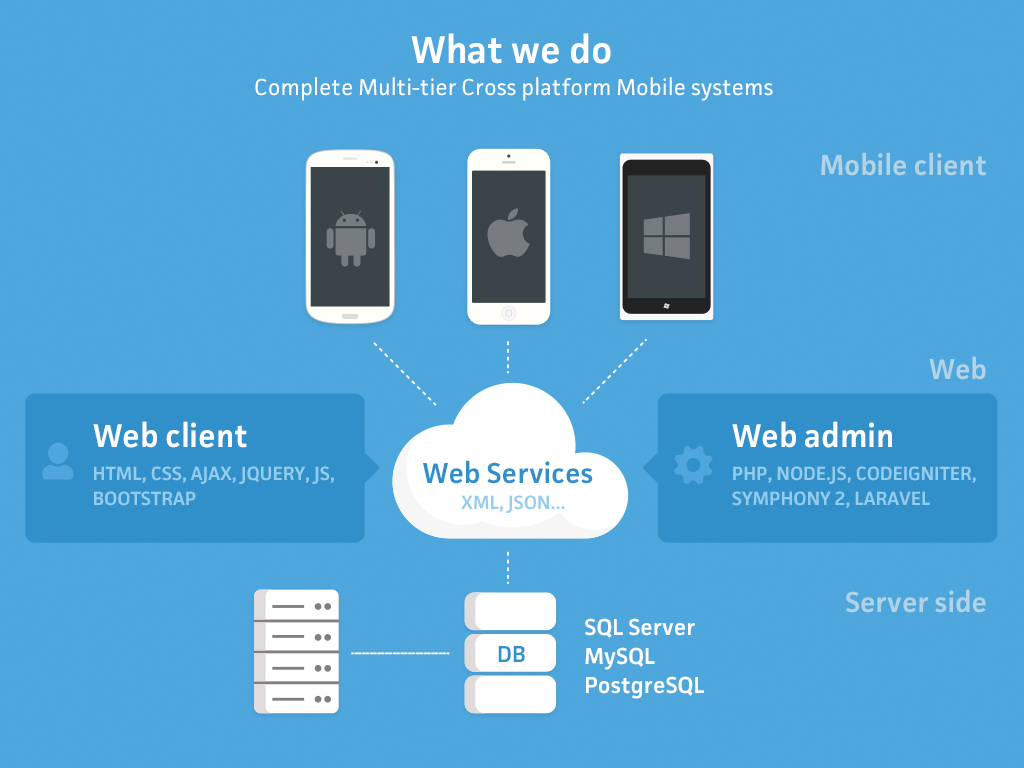 Not many teams are capable of doing entire multi platform mobile systems. Some teams are specialized in iOS development, some are specialized in Android applications, and some of the mobile developers don't do web programming at all. Well, this is where we fit in. Usually, we build entire mobile or web systems, with native cross-platform programming on iOS and Android. We can build complete server side system, which is usually consisted of database and web services for data delivery, administrative web application or end user web application. Mobile applications are mostly thin clients. When something has to be done quickly, we can skip building custom server side or just use server-side platforms such as Parse.com. Or we can do it from the scratch, depending on your needs.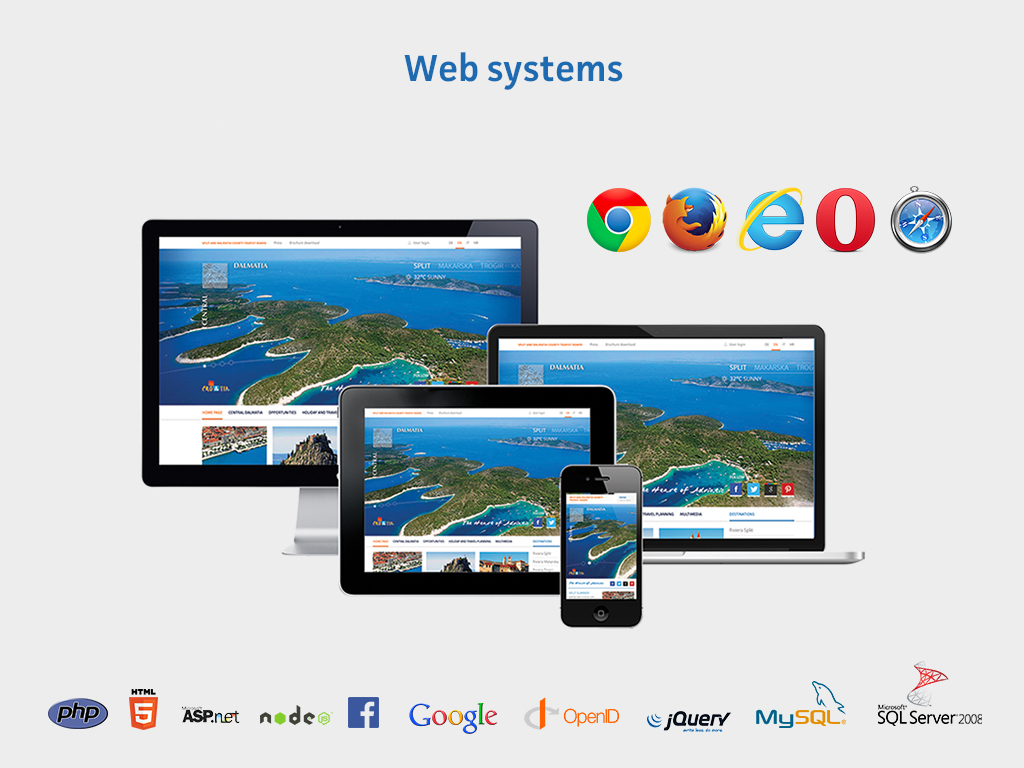 Who do we hire?
We hire excellent people. They must be excellent in something. Sometime we can hire people without experience but not without excellence. To build excellent products you need excellent people.
We hire top geeks. Every team member is excellent in something, whether they were top students with highest educational rewards, state champions in math and algorithms, or excellent coders with years of experience. But they have to be excellent to become part of the team. Why excellent? Because, we have to develop excellent solutions for our client, and we need excellent people to do it. When you get demands that require recompiling Android kernel, you need someone ready to get his hands dirty and get things done. Getting things done, that's another important thing in our team. We love when geeks are able to get things done. On time.
Who are our clients?
We are experienced in mobile and web applications development for various clients and industries, worldwide. From small startup companies to telecoms, government institutions, finances and healthcare, tourism and transportation, digital media and publishers. They all have business problems solvable with mobile applications or web development services, successfully solved by our company.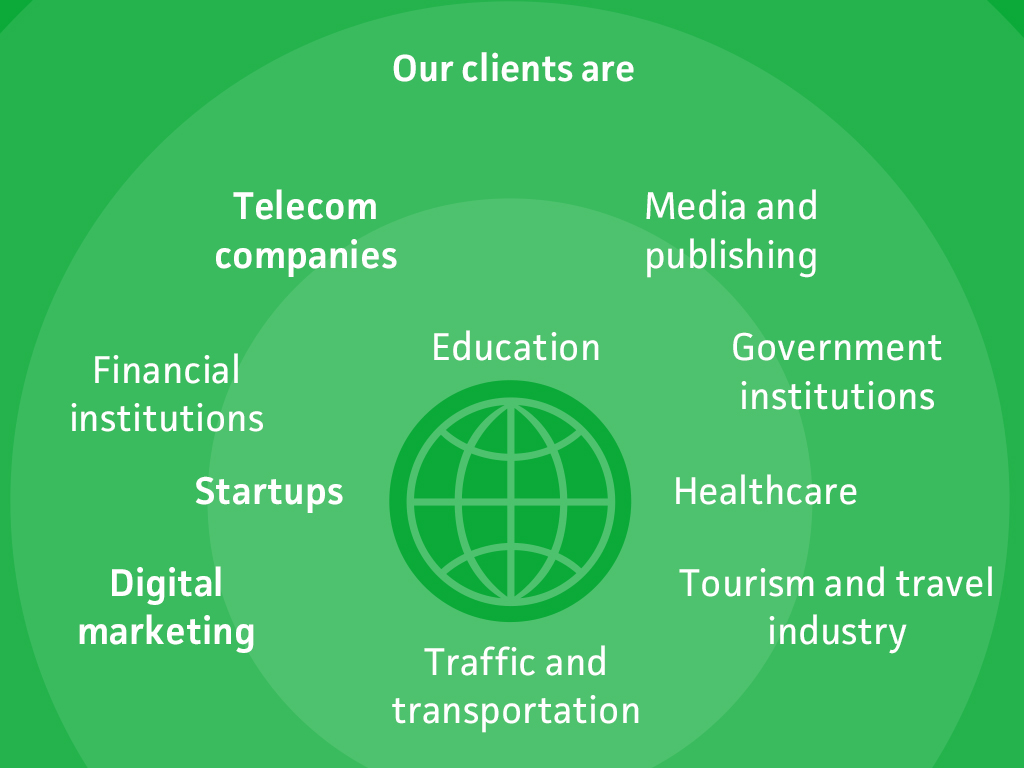 How do we do it?
We take our clients seriously. That's why we put our efforts in building flawless and fluid development precesses.
When we deal with the clients, we have systematic approach polished with experience. Our in-house project management is well organized, communication with the client is fluid and transparent. Every engineer is fluent in English, and has excellent communications skills. Well, I know what you think about geeks and communications skills… But, remember, we hire excellent geeks! We have in-house multi-level Quality Assurance Management process that assures top quality of output products before it's delivery to the client and end-users. We are agile and familiar with agile methodologies, Scrum mostly. Sometimes we are required to provide scrum master and product owner on the project when we are hired as outsourced team extension, and sometimes we have to lead external teams on the projects. Tasks like these come to us with ease since we are well trained on numerous deliveries.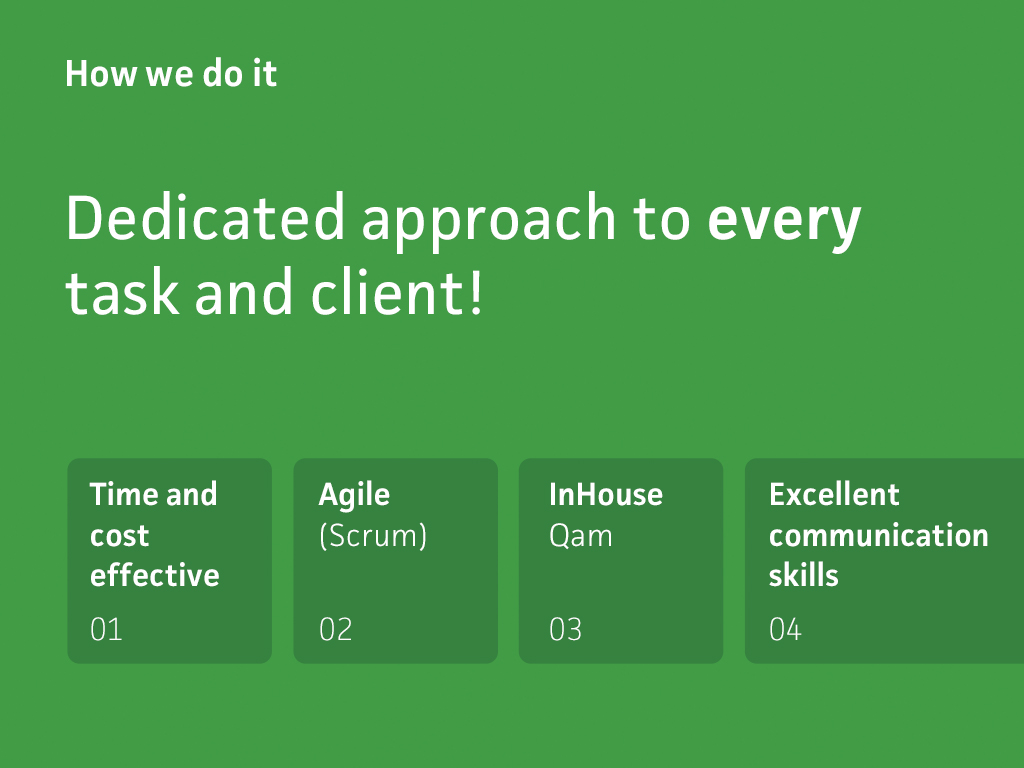 So let me summarize this.
We do:
– mobile applications development for iOS and Android with great UI/UX
– web development
– entire mobile and web systems (cross platform, multi-tier)
We do it for:
– small and medium enterprises and startup companies
– large scale companies such as telecoms, financial institutions, travel, and transportation etc..
– marketing agencies
– government institutions
I think that I have explained enough. We just love what we do and we are damn good in it. So, if you have a business problem, here is your team to hire!
Mateo Perak
Founder, Managing Director
Passionate entrepreneur & IT engineer. In love with mobile & web technologies. Co-founded few companies and SHIFT Conference. Jiu jitsu freak.
Explore more
articles
We shape our core capabilities around lean product teams capable of delivering immense value to organisations worldwide
Got a project?
Let's have a chat!
Zagreb Office
Radnička cesta 39
Split Office
Put Orišca 11, 2nd floor